eThere shall be an update tonight! I'm still in class at the moment, but when I get home I'll finish up the page and post it. It'll be the first page that I upload to Smackjeeves and the new Heard website at the same time! I'm excited!
ANIME WEEKEND ATLANTA! WOO! It's THIS WEEKEND, babies! I'll be skipping classes on Friday (sorry teachers!), and heading to Atlanta in the late morning. I'll be there from Friday afternoon until Sunday evening. I WILL have a table in the Artist Alley, so here is a map for anyone who wants to find me!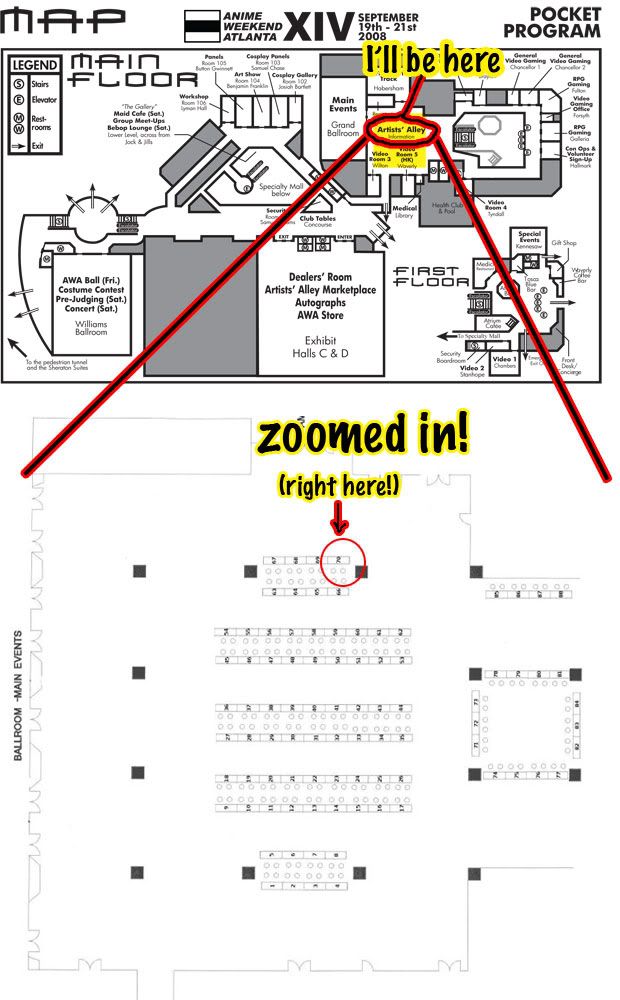 I'll be sharing a table with the very talented artist behind the webcomic Brink. Her website is having some issues, but it can be found HERE. If you have problems accessing it, you're not alone. It's kinda broken at the moment.
ALSO, the buttons are in!! They look great! I won't be selling them online, since I might sell out at AWA. After the convention, I'll be working on the designs, re-ordering them, and offering them for sale online.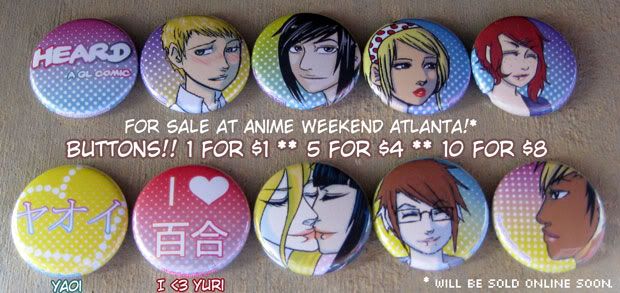 Yes, they are pretty cute. They're all 1″ in diameter, so they're hipper than the typical 1.25″ button! If I sell out of these at the con, don't worry! I'll be placing another order when I get back, and offering them for sale online. :D
OKAY PEACE OUT HOMIES. LET'S ROCK AND ROLL.
I have slept for like 16 hours in the last.. 24 hours. Yes, there is probably something SERIOUSLY wrong with me! But they don't take my insurance anywhere in the south, and I am not paying that kinda money to see a doctor for like two minutes.